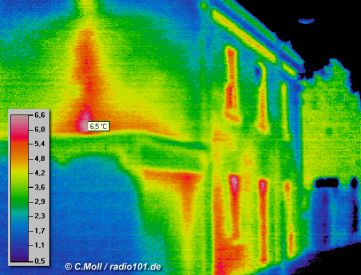 Any heat energy / warmth is transferred by three kinds: heat conduction, convection and radiation. Thermal imaging: Thermography makes heat radiation of buildings (or other objects) visible. The German/English physicist and astronomer William Herschel discovered in the year 1800 with a simple prism and a thermometer this infrared radiation.

Any heat of a building is lead through the wall to the outer skin where it is finally radiated. This infrared radiation (heat radiation) can be made visible by Infrared / thermic cameras, to see in how cood condition the thermal insulation is.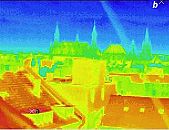 Main season for Thermographic photographs is the winter time - or at least the colder season, i.e. the temperature differences between the inner parts of the building and the outer skin are at least 20 degrees. Additionally the building shouldn´t be exposed to direct sunlight some hours ago, beacause then the exposed walls might look much warmer than they actually should.

Thermography (..that means: this special kind of infrared photography in the so called "far infrared" with wavelengths of 4-14 µm) must not be mixed up with common infrared photography, which is possible with common cameras wiith an infrared-filter beacuse that wavelength of the radiation is about 1µm (800-1200 nm), closeby to visible light.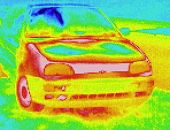 The multicolored thermographic photographs are generated by software in order to make even small temperature differences still well visible.

Above: View of the city Aachen with a thermal camera from a roof (city hall + cathedral are good to recognize), on the right thermal image of a passenger car Volkswagen Golf (click to enlarge).
More thermographic photographs / thermal images: (click here).
Former cameras were cooled by liquid nitrogen. Nowadays thermographic imagers work without cooling (or, more precisely: with built-in peltier cooling)

Prices of the Thermographic (infrared) cameras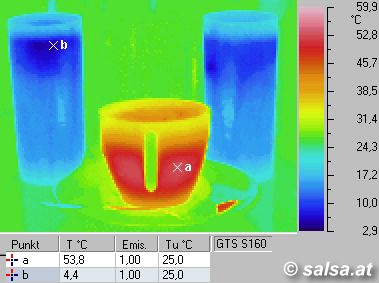 Right: two cold cocktails and a hot coffee

Thermographic cameras are still quite expensive, the still cost as much as an brand new car; there are only three producers of bolometric (i.e. thermal radiation sensitive-) detectors / chips world-wide, used in all cameras. Also some materials in these cameras are quite expensive, the "lenses" consist for example of materials like elementary germanium (which the objectives something look "extraterrestic" ;o), since glass within this wavelength range (4 to 14.m, i.e. much longer-wave, than the IR radiation discovered of Herschel) does not pass any infrared.
manufacturers and dealers of thermographic (infrared) cameras for thermal analysis: